Our Services
Make science work for you
Athletes, we want to be there for you with every step, stroke or turn of the pedal. Whether it's the beginning of the season, in between competition or if you are recovering from an injury, we want to be there for you and help you succeed.
Getting Started
Our basic training and testing services include a training session or an endurance all-out test. We also offer field training and sleeping assessment, that can show an in-depth evaluation of your recovery time and quality and help you prevent injuries and over-training symptoms. After you have completed the lab tests as well as the field monitoring, you will be invited for a summary session to analyze your performance and provide detailed consultation regarding your performance capabilities. We are truly a one-stop-shop, where all your physical and mental capabilities can be evaluated.
Our tests packages include:
Movement biomechanic analysis for runners, swimmers, cyclists and triathlets.
Performance analysis, using VO2 and (or) lactate measurements during training and maximal testing to provide metabolic and mechanical efficiency.
Performance readiness, using exercise training and sleeping monitoring. This allow accurate evaluation of resting and recovery time and quality.
Sports nutrition using full body composition analysis and RMR measurement.
Circadian phenotype, to allow understanding of the peak performance during the day and shift the diurnal variation if necessary.
Mindfulness, aim to improve focus and attention for improved athletic performance.
Field monitoring for movement biomechanics, muscle activity, VO2 consumption and lactate production, all to improve our understanding during normal training conditions.
Additional measurements we offer:
Anthropometric measurement of subcutaneous body fat, body composition, and Resting Metabolic Rate (RMR)

.

Lung function test / Spirometry, at rest
Neuromuscular electromyography fatigue monitoring
Gas analysis for metabolic efficiency, anaerobic threshold determination and maximal oxygen consumption evaluation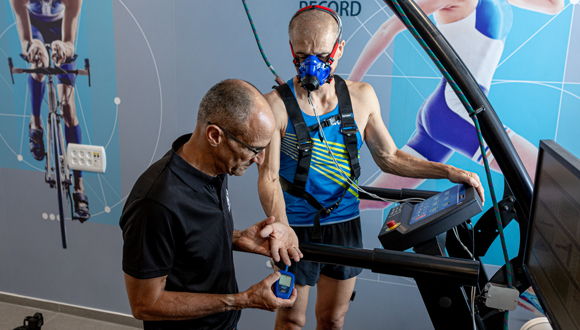 Medical evaluation
Nutrition evaluation
Psychological and cognitive evaluation
Circadian phenotype assessment and adaptation
Performance evaluation

Movement Assessment - SASI offers a movement assessment which forms part of the biomechanics testing. Movement assessment screening incorporates assessing an athletes pattern of movement during certain functional tasks, as well as individual muscle range of motion (flexibility) and strength. By assessing specific movement patterns and muscle function it provides an indication of whether certain muscles are tight or weak or if there are imbalances between side in terms of asymmetry. High degrees of asymmetry, limitations in range of motion, muscle strength or errors in movement patterns provide the biomechanist with information with respect to potential risk of injury or limitations in performance capability of an athlete. The movement assessment is specifically tailored to the athlete and the sport that they are involved with, in order to provide the best outcomes for prevention of injury and enhancement of performance.
Field monitoring
The Sylvan Adams Sports Institute supports the monitoring of athletes in their natural environment, and therefore the Institute is equipped with means to monitor the training in the field. Monitoring includes muscle function, measurement of oxygen consumption, lactic acid measurement and electrolyte monitoring for the assessment of sweating.